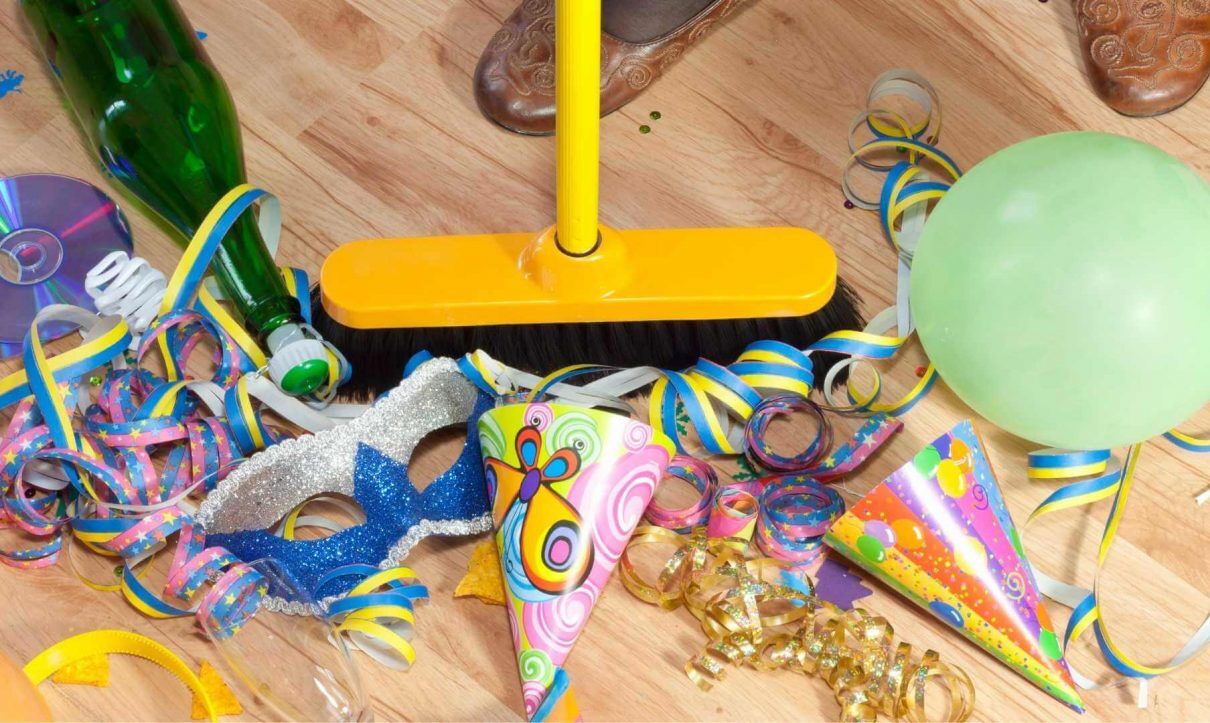 After Party Cleaning London – get rid of stains!
The amusing party is over, but what is the picture now? Empty bottles and cans, dirty dishes, stains, greasy fingerprints on surfaces and lots of fatigue – so, what should you do? One thing is sure – you have to remove all these unwanted traces and bring the flawless appearance of your living place. Take a deep breath of relief, because here you're at the right place – our experienced after party cleaning company. If you rely on our help, you are guaranteed amazing final results. What is our quotation? Professional after party cleaning service, specially tailored to suit your needs.
just imagine all the crumbs, cigarette ash on your upholstery, spillages and of course – a huge pile of dirty cutlery. Don't worry at all, because there is no filthy party arena, that can scare our trained, insured and vetted after party cleaners. They will come to apply proven, modern and eco-friendly sanitising methods and the final outcome will be more than satisfactory, you'll see it with your own eyes. It's completely logical to be extremely tired after the wild revelry. Play it safe and arrange your appointment for our convenient after party cleaning session! It's worth it, believe us!
Give us a quick call on 020 3670 2141 and take advantage of our professional and very flexible after party cleaning procedure!
Expert after party cleaners clean everything
Just imagine your blissful relax after your guests are gone! There is no need to grab the mop if you have arranged the visitation of our expert after party cleaners. They will come really fast to bring the impeccable look of your sweet, sweet home. Continue reading and get acquainted with some important features of our convenient after party cleaning service:
Your dirty floors will be mopped and disinfected by our diligent and very skillful after party cleaners. In addition the filthy carpets will be hoovered.
Our friendly and motivated after party cleaners will get you rid of all empty cans, bottles, plastic cutlery and food leftovers. The entire kitchen will be sparkling clean (cupboards, appliances, worktops – everything will be polished till sparkling shine is achieved).
Upholstery will be refreshed and wiped, bathroom and toilet premises will be subjected on deep disinfection after the use of many people.
Our detergents are strong and efficient, but non-toxic. All the sanitising techniques and machinery are modern and proven. No more endless scrubbing of stains, no more tedious household chores – rely on our experienced after party cleaning company and everything will be fine. You will feel only the positive side of your great party.
Please, note that our professional after party cleaning service is also available for offices or other commercial areas, but detailed specification will be discussed with our customers individually.
There is no place for hesitations. Parties without spills and some stains are a rare case. Trying to be very careful all the time will spoil the moment. Our trained after party cleaners recommend you to relax and to enjoy your wonderful party without worrying for the dirtiness afterwards. Just ensure yourself our flexible after party cleaning service in advance and everything will pass smoothly.
Contact us on 020 3670 2141 and book our convenient after party cleaning service! Prices are cheap and affordable, so your budget won't be shrinked.