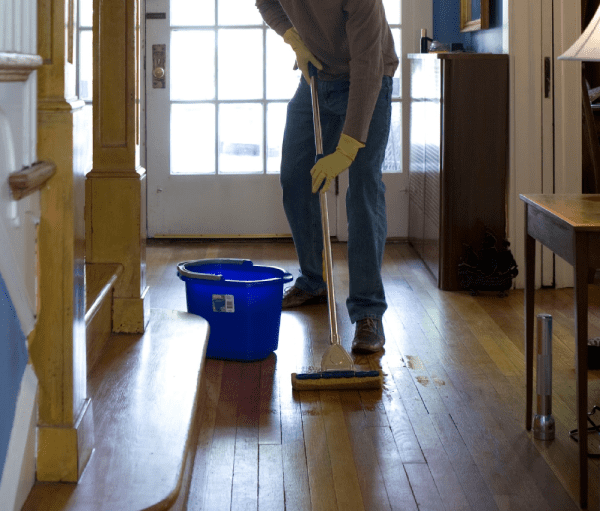 One off cleaning service by Nice and clean London
You love your home but how often do you have free time for deep one off cleaning? It's hard to organise such a time-consuming task.
There is no need to plan the cleaning weeks beforehand and spend half your salary on expensive cleaning agents. Give yourself the break you deserve – rely on professional cleaning service!
Yes, you can do the cleaning yourself, but its best to use professional services. Our deep cleaners will make sure that your property is cleaned deep and through out. then you can have the easy part. And to proceed with the standard weekly cleaning.
One off cleaning is a comprehensive cleaning service that is tailored to
meet the unique needs of your home or business. Whether you're moving
out of a rental property, preparing for a special event, or just need a
heavy-duty cleaning. Our one time cleaning service can help.
Our company Nice and Clean in London has managed to earn spotless reputation through the years. The happy and satisfied customers are what keep us motivated. We seek perfection in everything we do. And the fact our customers come back to us, proves we move into the right direction. When you contract one-off cleaning service from Nice and Clean London, you can be sure you will get outstanding results and professional attitude at a reasonable price.
What Is One Off Cleaning?
One off cleaning is a type of cleaning service that is designed to
provide a deep, thorough cleaning of your home or business. This type of
cleaning is typically more intensive than regular cleaning services and
is usually performed on a one-time basis.
One off cleaning London includes deep and thorough sanitising of your whole house or flat.
What is included in our Deep Cleaning Service
Our deep one-off cleaning service includes a comprehensive cleaning of
your entire space We will leave your property spotless and refreshed. Here is what is
included in our service:
Our experts will not neglect any room of yours:
Dusting – All surfaces, including furniture, shelves, and décor, will be dusted to remove dirt and debris.
Vacuuming: Carpets and upholstery will be vacuumed to remove dirt, dust, and pet hair.
Mopping: Hard floor surfaces will be mopped to remove dirt and grime.
Common areas – when it comes to hallways or staircases, we are aware they are heavily used every day, so they need lots of attention. Our cleaners will remove cobwebs and fingerprints spots from any kind of surface. They will wipe down your skirting boards, light switches, door frames, and mirrors. What is more, carpets will be vacuumed (if you have any) and floors will be mopped, regardless of the material they are made from;
Bedrooms and living rooms – in addition to everything mentioned above, our professionals will disinfect all your furniture, windows, and picture frames.
Kitchen – except for the floors, door frames, skirting boards, and light switches, your sinks will also be scrubbed and left shining. The range-hood and stove top will be carefully sanitised. Our cleaning experts will not forget to wipe down your cupboard fronts and kitchen appliances, too;
Bathroom – this part of your home usually requires lots of energy to be properly maintained. Don't worry – our operatives are trained and experienced, they know how to act quickly. Your whole bathroom will be cleaned, with all its numerous details: shower fittings, baths, toilets (base and behind), tiles, sinks, mirrors, and floors, of course.
Deep cleaning: Deep cleaning of high-traffic areas, such as the livingroom and hallways, will be done to remove dirt and grime that regular cleaning may miss.
Sanitizing: All surfaces will be sanitized to kill germs and bacteria.
This is just a basic list of what's included in our deep one-off
cleaning service. Our cleaners can customize the service to meet your
specific needs and requests. Contact us to schedule your one-off
cleaning service today!
Freshen up your home – request one off cleaning service now! You can reach us 24/7 by sending us a message to info@niceandcleanlondon.co.uk or calling on 020 3670 2141. Our Customer Service Agents will gladly talk with you about your London cleaning needs and help you book a team of specialists!
How often do you need One off cleaning of your property?
Depending on the condition and the type of property you may need one time deep cleaning from once a month to once per six month of even once per year. For example if this is commercial property (such as office or workspace) then you may need one time deep cleaning more often than your residential property.
Either way our deep cleaners will do their best in cleaning your property. This is an hourly based service and we will do as much as possible for the time booked. We always advise our customers to show us the property around and point out your priorities prior to starting. Then we can proceed with them first and then move to the rest of the property.
PRICES
Regular Cleaning
prices from £16.00 per hour.
Ironing
prices from £16.00 per hour.
Office cleaning
prices from £16.00 per hour.
One off cleaning
£17.00 per cleaner per hour with your cleaning equipment and detergents. Minimum four hours of cleaning.
£18.00 per cleaner per hour with our cleaning equipment and detergents. Minimum six hours of cleaning.
Why to choose our Deep Cleaning service
When it comes to maintaining a clean and tidy home or office, regular cleaning is essential. However, there may be times when a deeper clean is needed, and that's where one-off cleaning services come in. One-off cleaning is a great option for those who want a deep clean but don't have the time or resources to do it themselves. Here are some reasons why you should choose our one-off cleaning service:
Professionalism: Our team of cleaners are professional, experienced, and well-trained. We know how to tackle even the toughest cleaning tasks and will leave your space spotless.
Attention to detail: We understand that every space is unique. Our cleaners pay close attention to detail to ensure that every nook and cranny is cleaned.

Equipment and supplies

: We use top-of-the-line equipment and cleaning supplies to ensure that your space is thoroughly cleaned and sanitized.

Time-saving

: Our one-off cleaning service saves you time and energy, allowing you to focus on more important tasks.

Flexibility

: We offer flexible scheduling options to fit your needs, whether it's a one-time deep clean or recurring services

Satisfaction

: We stand behind our work. We will do our best provide the best possible result. We will ensure that you are happy with the results.

Affordable

: Our one-off cleaning service is affordable and we provide a transparent pricing system.
Get in touch with our professional cleaning services.
Our comprehensive One off cleaning solution that can help you achieve a deep, thorough cleaning of your home or business. Whether you're moving out of a rental property, preparing for a special event. Or just need a heavy-duty cleaning, a one off cleaning service can help.
Do not hesitate to contact us if you are in a need of cleaning service. Our customer service representatives are available online 24/7 for you. Please note that we provide last minute cleaning service . Thus if you are in a need of emergency cleaning or cleaning in the last minute do not hesitate to contact us 🙂