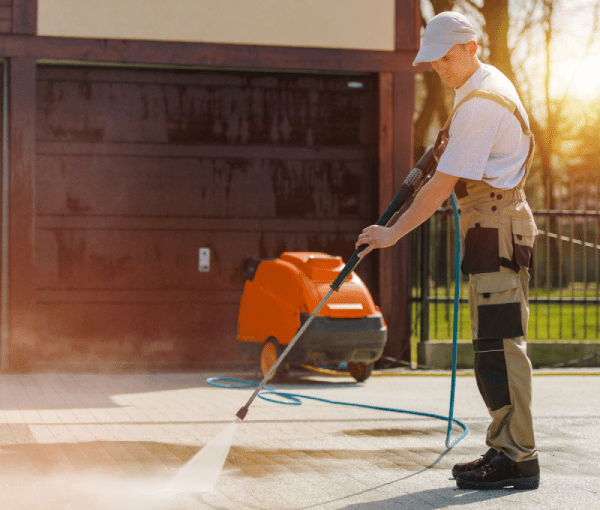 Give your home the brightest look possible with our pressure washing service!
Looking for Professional Cleaning company to clean the exterior your property? We are able to restore the and clean almost any external surface without causing any damages. Our jet wash technicians are trained to works with any type of stone. Thus we can help with cleaning your patio and driveway. You will be amazed of of the results.
The rain may have its charm and beauty, but it is definitely not the best time for going out. And your home needs constant care – not only on the inside, but on the outside as well. We all know the results of constant rain and the forming of that black spots on driveway and the green patina too.
We know that sometimes it could be hard to clean it yourself. You have to spend lots of time, resources, and energy on such a complex task. And let's face it, you probably won't be fully satisfied with the outcome. That's why the best option is using professional pressure washing service in London!
Our cleaning company specialises in a variety of cleaning services. We have been on the market for 15 years and we never get tired of learning and working. The good reputation amongst our customers is what means the most. Many of our customers book carpet cleaning service together with the jet wash and they receive great price for both services.

Why is Pressure Washing Good for Your Home?
Pressure washing is an effective cleaning method, which can be applied on wood, vinyl, concrete, composite, stone, brick, and other surfaces. The pressurized water removes the grime and dust in no time. Clean surface leads to lower risk of slips, trips, and falls.
Check here the rest of the benefits of pressure washing:
Pressure washing services we offer:
Our pressure washing portfolio includes wide range of jet wash service that our customers find super helpful. We do our very best to provide the great cleaning results on great price. Check out the below services, if you are interested in one or even two different services. Contact us and we will be happy to offer you special prices for combined services:
– Brick work cleaning
– Graffity removal
– Patio and driveway cleaning
– Decking and wood work cleaning and restoration
– Chewing gum removal
– Professional Stone cleaning
Take advantage of our Professional Jet wash services
Our trained jet wash cleaning professionals will arrive at your house at a suitable time for you. There is no need to be there while they are working. You will get thorough the pressure washing in just one visit.
Once the job is done, your home exterior will be fresh like new! Only the latest power washing technology is used in the process. No harsh chemicals!
Do you think it is time for proper cleaning of your property? If yes, then give us a call at 020 3670 2141 or write to us at info@niceandcleanlondon.co.uk. Ask your questions and share your ideas with us.
Do not hesitate to book a team of pressure washing experts today!