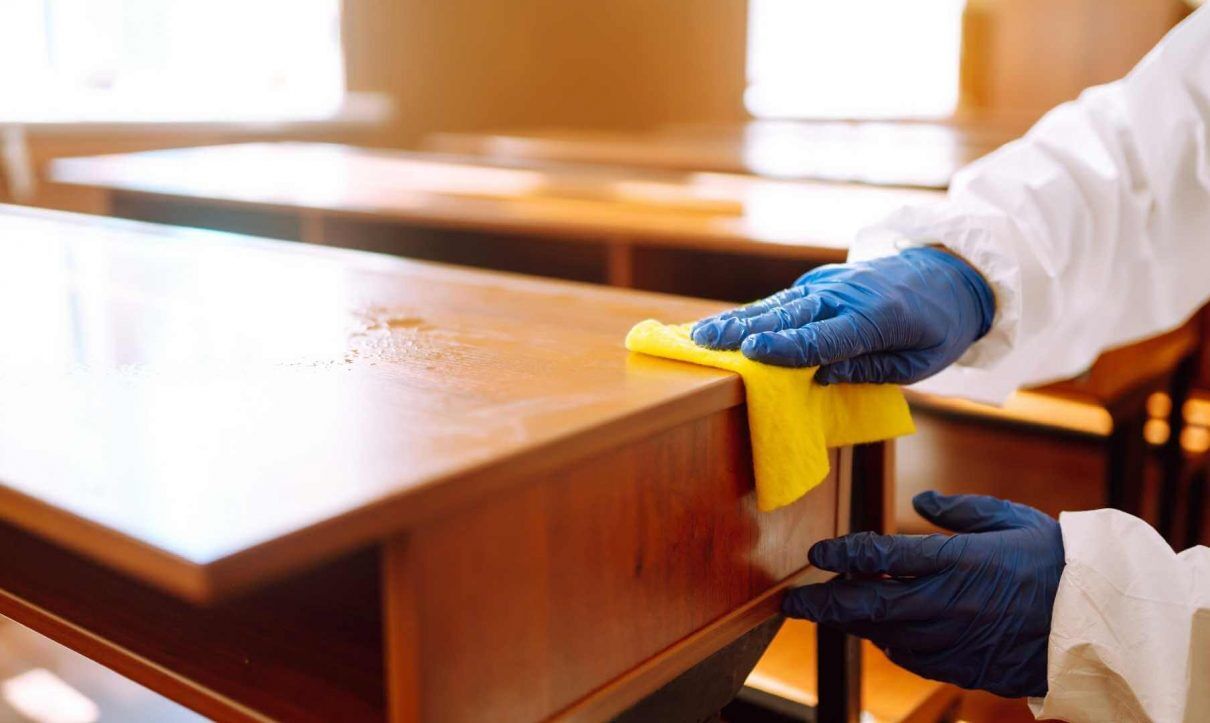 Our great School Cleaning services provides provide impeccable look for your school facilities
High-standard London school cleaning is not a privilege, it's a must for every single school. Is it necessary to mention, that this deep sanitising procedure requires professional approach. Let us present to you our affordable and high-quality London cleaning service. If you're concerned and responsible principal, who wants to take a good care of his students, you will take into consideration our offer. Our experienced company Nice and Clean London provides a wide range of disinfecting packages. One of them is exactly what you need for your wonderful school – reliable and save cleaning service of your school, college or university.
Keep in mind, that our cleaning service are provided only by certified and well-trained employees. We do our best to achieve magnificent results. You know that school buildings are densely populated with kids and adults. The fact, that so many people are gathered at one place, means that hygiene maintenance must be at very good level. Otherwise, there is a risk of spreading disease especially in now time with the COVID 19 present around us. Trusting our cleaning company gives you the guarantee and ensure your pupils flawless school facilities and studying environment.
Call us now on 020 3670 2141 and schedule an appointment for our flexible cleaning standard for schools! It will be delivered at convenient for you timing, so lessons won't be interrupted.
Meet our expert London school cleaners!
Rely on our professional ways to keep schools clean and you will get specially prepared deep cleaning program. This is definitely the best choice, concerning your school hygiene. It comprises not only all the sanitising tasks, that should be accomplished, but also safety requirements in order to prevent potential health danger.
Learn more details about how we keep the school clean and what procedures our specialists will perform in your school:
Classrooms and corridors
Scrubbing, polishing and disinfecting all surfaces
Emptying the rubbish bins
Wiping finger marks, spills, spots and windowsills
Mopping dirty floors and hoovering, including under the desks and the school chairs
Thorough dusting door frames and window ledges
Gentle floor polishing – if necessary
High-risk areas
Bathrooms and toilets – the lavatory ware will be comprehensively disinfected (all sinks, urinals and basins will be deeply sanitised by our expert London school cleaners); the trash bins will be emptied; the bathroom supplies will be replenished (if requested); the floors and the tiles will be carefully wiped.
Athletic areas – the locker rooms will be thoroughly sanitised; the floors will be mopped; the premises will be aerated.
Kitchen, cafeteria, canteen – scrubbing inside the microwave; wiping the washing machine and the fridge; disinfecting the sink and doing the dirty dishes; wiping the cupboards from the outside
Take advantage of our professional school cleaning services without any hesitations! When it comes to students' and teachers' health and safety, compromises are not allowed. The impeccable school ambience is mandatory, because at such highly populated areas, bacteria are easily spread. In addition to the health and safety problems, the flawless studying and working conditions are main factors for the great productivity and good concentration.
Contact us now on 020 3670 2141 and get a free quote for our professional cleaning services, delivered at fair and affordable costs!
Maintain your floor in good condition via our professional hard floor polishing!