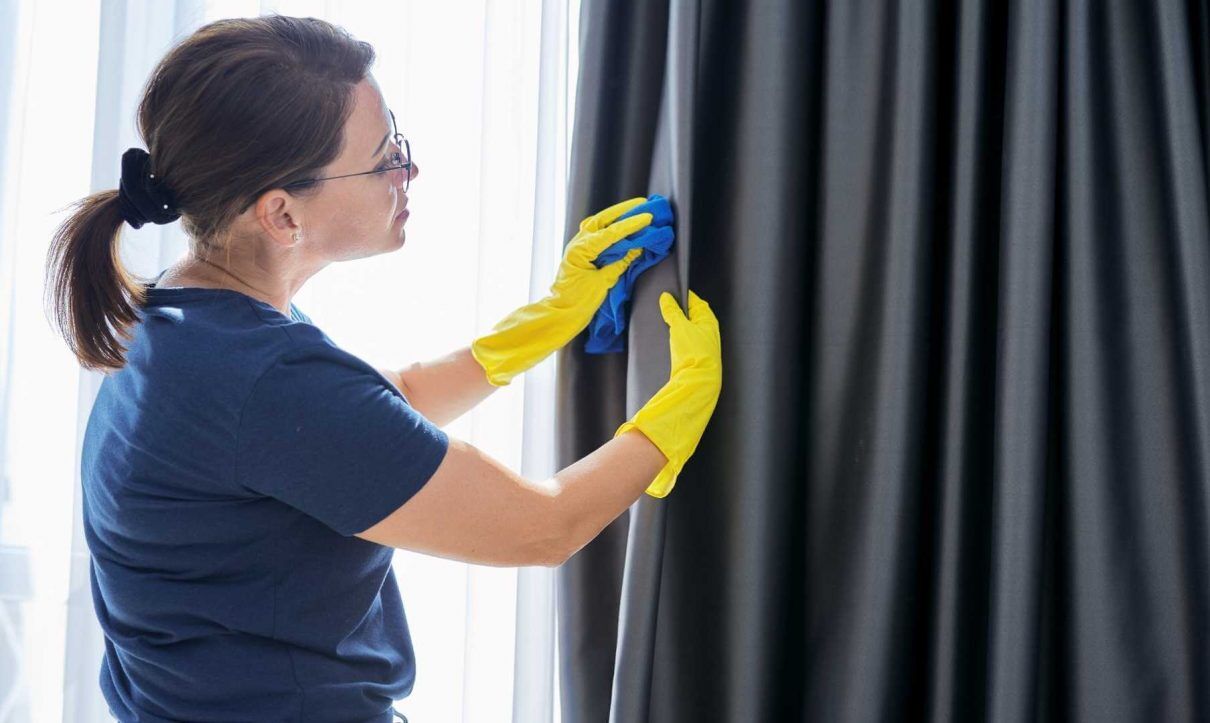 Curtains and Mattress Cleaning – home details matter!
London curtain cleaning is a real challenge, no matter if you're a beginner or advanced housekeeper. You know this tedious procedure – climbing on high ladder, putting down the heavy and filthy drapes, then washing them in the laundry. Moreover – there is a risk to ruin the material if you apply the wrong technique. Therefore – wise and provident housekeepers rely on our experienced London curtain cleaning company. Welcome to the fresh kingdom of Nice and Clean London! Here you will find high-standard London curtain cleaning services at affordable rates. No more hesitating which commercial cleanser to buy, no more applying wrong methods and causing structural damage. Ensure yourself our professional and very convenient London curtain cleaning service, delivered on site. Furthermore – the dirty drapes are disinfected on site, without even taking them down. Trust our expert London curtain cleaners and you won't regret it. Just enjoy your extra free time and leave our skillful and motivated London curtain cleaners do the whole job instead of you.
Call us on 020 3670 2141 and book our flexible London curtain cleaning service, available in London and Greater London! Save your precious time and your efforts for important things in life!
Learn more facts and details about our modern and very efficient London curtain cleaning methods and don't worry for your expensive, stylish curtains. They are in our good hands.
Trust our expert curtains and mattress cleaners London!
If you are using unprofessional cleaners you should know that you put your curtains and mattresses at risk as this types of materials can be easily damaged. However this is not the case with our professional cleaners. We train our cleaning teams to understand the differences between the different materials and the appropriate method for their cleaning.
Depending on the materials they are made of, your curtains or mattress must be clean by one of the below cleaning methods:
London curtain steam cleaning – after this thorough procedure, you can be sure, that your drapes are sanitised and refreshed inside out. Thanks to our specialised equipment, our expert London curtain cleaners will inject efficient mixture of hot water and biodegradable, non-hazardous detergent into the fabric. Right after the splash, immediate extraction is accomplished by our insured and vetted London curtain cleaners. The filthy curtains are disinfected on site by our London curtain cleaning professionals. 2-3 hours later they will be completely dry. How do you find all that? It's easy, fast and cheap. Grab our London curtain steam cleaning offer and ensure yourself flawless curtains! Home details do matter, right?
London curtain dry cleaning – delicate curtains are so beautiful. But they also get dirty and filthy, correct? Don't bother at all, because our enthusiastic London curtain cleaners will solve that problem for you in no time. In this delicate case, our company relies on special absorbent detergent, which interacts with dirtiness. This harmless chemical reaction is the key to success. Bacteria, dust mites and grime – there will be no place for all these after our efficient London curtain dry cleaning service. No risk of loosening or residual moisture, that may cause mould or structural damage.
New: Scotchgard Protector! This modern substance will help you to extend the magnificent appearance of your deeply sanitised curtains for longer. It's invisible, but it's so wonderful, because it repels the spilled liquids and don't let them form cheeky stains. This great service is perfect addition to the mattress cleaning – for example the small children sometimes wet their beds, however if you use scotchgard then there is no need to wash to mattress each time. However quick wipe should do the job.
Contact our helpful and friendly booking agents on 020 3670 2141 and schedule an appointment for our affordable, professional London curtain cleaning procedure! You already know what to expect – diligence, accuracy, individual approach.
Steam Cleaning Prices:
A pair of short curtains £20.00
A pair of long curtains £25.00
Minimum charge applies.
Dry Cleaning Prices:
A pair of short curtains £40.00
A pair of long curtains £50.00
Minimum charge applies.
Mattress cleaning – healthy, sound sleep is feasible with our help!
Your mattress is the favourite place for various bacteria, allergens, pathogens, dust mites and you can't change that fact. Actually, you can do something reasonable – you can request our professional London mattress cleaning service. Its main function is to eliminate all microbes via the power of the steam. Our expert team uses mostly London mattress steam cleaning method. High temperature is the main enemy of germs. No matter how assiduous housekeeper you are, better leave the London mattress cleaning procedure to our professionals! Find out more details about our London mattress cleaning service and decide:
Here are some undoubtful facts: Dust mites love humidity and feed on shed skin cells. This simple truth makes your bed their favorite shelter. Moisture there is stimulated by body perspiration. Get yourself our reliable London mattress cleaning service and be the only ruler in your bedroom!
Take care of your healthy rest, because health is the most important thing, you know that. Our experienced company guarantees that steam and dry London mattress cleaning /depending on the mattress material/ kill microbes and sanitise your comfy bed.
Give us a call on 020 3670 2141 and request your professional London mattress cleaning service! There is no time to lose, high level of hygiene is a must in your bedroom. Prices are fair and cheap, so your budget won't be shrinked.
Mattress cleaning prices:
Mattress Steam Cleaning Price £20.00
Mattress Dry Cleaning Price £40.00
Minimum charge applies.