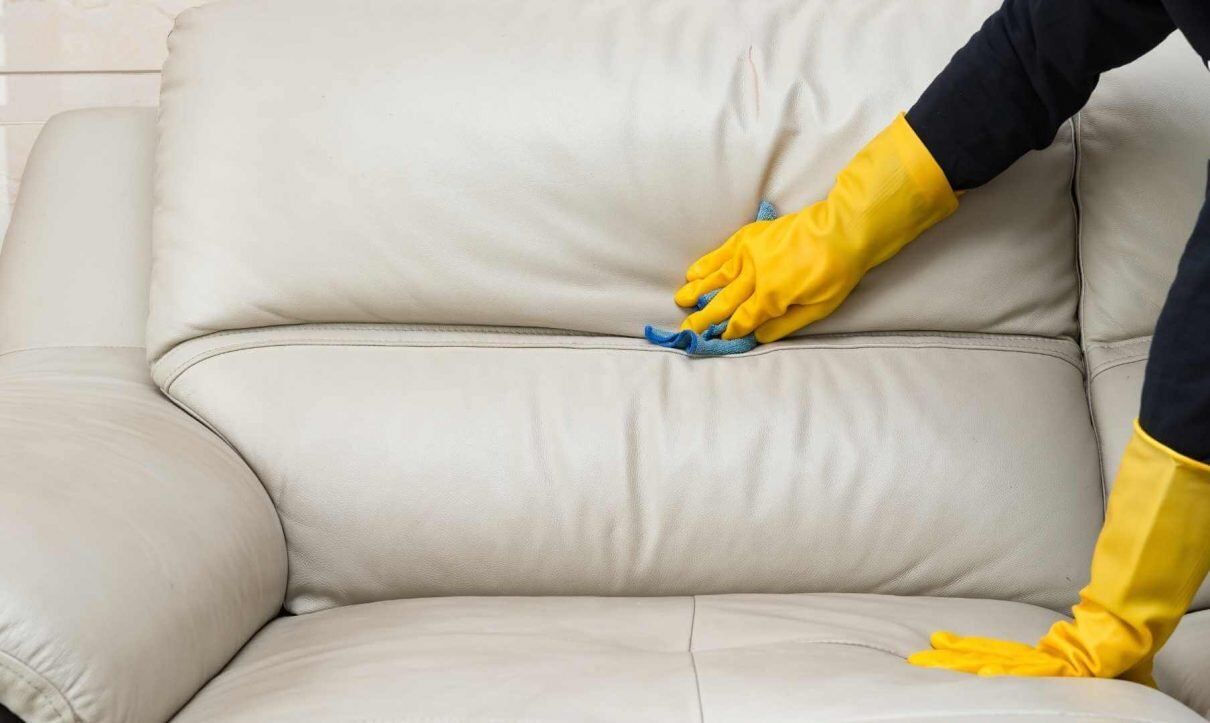 Leather Cleaning in London – for stylish leather furniture
Welcome leather cleaning service by Nice and Clean London. If you are a proud owner of stylish and elegant leather furniture set, this valuable information is written especially for you. It's impossible to prevent all the stains and spills. Therefore – you do need our reliable and very convenient leather cleaning service, delivered on site by our polite experts. No matter if you possess fake or natural leather furniture. It requires regular care and some "pampering" /in other words proper moisturising/.
Just contact our polite and helpful office assistants on 020 3670 2141 and wait the important knock on your front door! Arranging an appointment for our leather cleaning service is easy and fast.
Step by step leather cleaning in London
Take advantage of our professional leather cleaning service and forget about all the filth, dust and stains on your leather pieces of furniture. Keep in mind, that only certified and insured leather cleaners work for our experienced company. Our reliable leather cleaning procedure is usually accomplished manually. Depending on the leather type and current condition, our motivated and skillful leather cleaners define if they should wipe it by hand or they will use special Esprit Upholstery Cleaning machinery. Ensure yourself all these stacked benefits, emanating from our affordable leather cleaning session:
After our efficient leather cleaning session, there will be no stains, dust and microbes on your fancy leather furniture set.
Maintain your natural or fake leather upholstery by requesting our convenient leather cleaning service, delivered on site. Trust our professional leather cleaners and enjoy the wonderful look of your furniture for a very long time!
Moreover – along with the total elimination of dirtiness, leather is well moisturised. Restoring the proper pH balance of leather is extremely important for its long life span. Have faith in our expertise and ensure yourself our flexible leather cleaning session!
Our eco-friendly leather cleaning approach is harmless and very efficient in the same time. There is no risk of structural damage, so be calm and enjoy your extra free time while our leather cleaning professionals restore the flawless appearance of your stylish leather furniture set.
Attention! Trying to perform the leather cleaning process on your own may be not only inefficient, but also a very risky undertaking. Therefore, call us every time when you're not completely satisfied from the look of your leather furniture.
Suede cleaning
In addition to our wide range of cleaning services we offer professional cleaning of suede furniture. This "special type" of material and the only option for cleaning is dry one. Thus no steam cleaning should be applied, as your furniture will be damaged permanently. We do provide suede leather sofa cleaning service.
We have special team who is in charge of all special type of cleanings, such as the suede cleaning. They are trained to clean the suede materials to the highest level. Please note that the dry suede cleaning is rather gentle type of cleaning. Thus some stains may remain, however our team will do their best to clean it. The service is always done in the comfort of your home. We will come to you 🙂
Take advantage of our professional leather cleaning and suede cleaning service now!
When it comes to such an expensive investment, be smart and provident. Maintain your fashionable acquisition by requesting our professional leather cleaning service. You are guaranteed to get stunning final results in no time. Invite our polite and friendly leather cleaners in your sweet home and leave them do the entire procedure while you're devoting your time to your beloved family or to your exciting hobby. Prices are not an obstacle, because they're reasonable and affordable.
Call us on 020 3670 2141 and book our flexible and reliable leather cleaning service! Protect your lovely leather and use it as long as possible!
Leather cleaning Prices:
A two-seater sofa £50.00
A three-seater sofa £74.00
Armchair £38.00
Our services are perfect fit for all you upholstery cleaning needs.
Areas we cover
We do cover the whole great area of London and Portsmouth. Please contact us directly, so we can confirm availability for your area.
Frequently asked questions about leather cleaning:
Q: Are you able to remove stains from my leather sofa?
A: We are able to remove stains, however please note that we do not provide guarantee, as some stains as permanent.
Q: Do you offer Suede cleaning?
A: Yes, we specialize in suede and faux suede cleaning.
Q: How do you clean leather?
A: We do clean the leather manually using professional detergents.